Baltimore's Trusted Air Conditioning Installation Specialists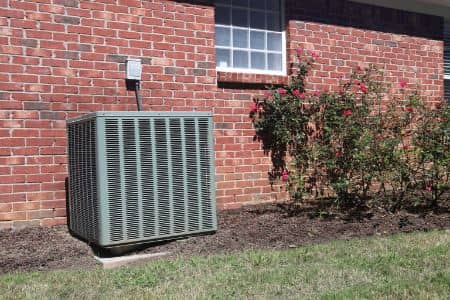 There's one surefire way to get a quality air conditioning installation in the Baltimore area, and that's by giving our master technicians at Revolution Heating & Cooling a call. We work with the best well-known manufacturers and can give you a free estimate you'll love. Even though we aren't certified dealers, our technicians can help you to select the right system for your home and install it for you.
We have a long-standing relationship with our manufacturers so you'll not have to worry about your equipment being over-priced or that we can't install it for you. We believe in passing the savings on to our customers, and that's worked well for us in the past. Our technicians are highly skilled and have been in the industry for years. Quality installation reduces the need for frequent air conditioning repairs, but we'll be there to tackle those when you need them too.
You can also rely on the top heating contractor for Baltimore to expertly handle your air conditioning installation needs. Call now to schedule an air conditioning installation service for your home in Baltimore.
New & Replacement AC Units
When it comes to providing top-quality AC units for customers in Baltimore, Revolution Heating & Cooling is your trusted partner. Our range of new and replacement air conditioning units is designed to keep your home comfortable year-round. Whether you're looking to upgrade to a more energy-efficient system or need a reliable replacement for your existing unit, we offer a selection of state-of-the-art air conditioners that are tailored to meet the unique climate needs of Baltimore. With our expert technicians and a commitment to customer satisfaction, we ensure a seamless installation process and efficient cooling solutions that keep you cool and comfortable even during the hottest Baltimore summers. Stay cool and enjoy superior indoor comfort with Revolution Heating & Cooling's AC units.
Why Air Conditioning Installations Now?
If your Baltimore air conditioning system is better off being replaced, you'll have the opportunity for better energy savings from more efficient equipment. Plus, you'll be able to enjoy new technologies such as smart thermostats or whole home air cleaners that can be controlled with your smartphone or laptop.
Our Baltimore heating contractor performs all Baltimore Air Conditioning Installations according to local safety codes and manufacturer's instructions. We meet or exceed these standards. For your peace of mind, you'll have some great warranties from these quality manufacturers.
Frequently Asked Air Conditioning Installation Questions
Determining the right size AC unit for your home is crucial for efficient cooling. It depends on factors such as the size of your home, insulation, and local climate. Oversized units can lead to short cycling and inefficiency, while undersized units may struggle to cool your space adequately. Our team at Revolution Heating & Cooling provides professional assessments to help you choose the right-sized AC unit that matches your home's specific needs.
The duration of an AC installation can vary depending on factors like the complexity of the installation, the type of unit being installed, and the size of your home. In many cases, a standard AC installation can be completed in a day. Our experienced technicians at Revolution Heating & Cooling prioritize efficiency without compromising quality, ensuring a smooth and timely installation process.
Regular maintenance is essential to keep your AC unit running efficiently and prolong its lifespan. This includes tasks like cleaning or replacing filters, checking for refrigerant leaks, and ensuring proper airflow. Revolution Heating & Cooling offers maintenance plans to help customers in Baltimore keep their AC systems in peak condition, ensuring optimal performance and energy savings.
If you have more questions or are interested in air conditioning installation services in Baltimore, please don't hesitate to reach out to Revolution Heating & Cooling.
Latest Air Conditioning Installation Articles
When Should You Install a New Air Conditioner?

You may think that you won't know when you need an air conditioning replacement, but there are actually many ways to recognize that a new air conditioning installation is needed to cool your Parkville home effectively. Homeowners often know when their air conditioners are beyond repair […]
If you are looking for affordable Baltimore Air Conditioning Installation, please call Revolution Heating & Cooling today!