Parkville's Leading Heating Contractor Services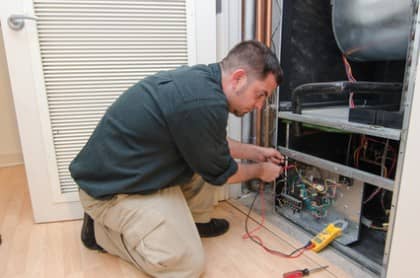 Are you in need of a reputable heating contractor for your home? Revolution Heating & Cooling is a professional Parkville, MD heating and air conditioning company. We provide HVAC services to residential customers in the area that include Parkville Heating Repairs, air conditioning installations, indoor air quality services, and much more. When it comes to providing residential heating services, we believe all of our services should work to help keep you and your family more comfortable.
High-Quality Parkville Heating Repairs
Since 1999, our technicians have been working in the industry in the state of Maryland with superior heating and air services. We provide repair services to heaters, gas heaters, boilers, furnaces, heat pumps, radiant heaters, and other heating systems. No matter what type of heater you have in your home, our professional technicians have the skills to fix them.
Air Cleaners for Better Indoor Air Quality in Parkville Homes
Does your indoor air quality cause you sinus problems or allergies? Replacing the filter should always be done, and it does help to purify the air that flows through the system. However, there are many more feet of bad particles left in the vent that will continue to blow out into the air you breathe every day.
That's where air cleaners come in to remove these contaminants that are left over by your air filters. Whole home air cleaners can be installed by our master technicians to improve the indoor air quality in your Parkville home.
One of the most obvious signs that you need your Parkville ductwork cleaned is dark areas located around the vents coming from the duct work. The dark areas are soot, grime, and other bad materials that are blown onto the surfaces around your vent. If you see this issue, it's time to call in the professionals to take a look at what's going on with your air conditioning and heating system. Call now to book an appointment with a reputable Parkville heating contractor.
Why Parkville Homeowners Are Choosing Ductless Heating
Ductless heating systems are gaining popularity among Parkville homeowners for several compelling reasons. These systems provide precise heating control, allowing residents to create personalized comfort zones in their homes. With easy installation and no need for ductwork, ductless heating units are ideal for both older homes and new constructions. They offer energy efficiency, helping homeowners reduce heating costs while staying warm and comfortable during the colder months. Ductless systems are also known for their reliability and low maintenance requirements, making them a practical and hassle-free heating solution. Experience the benefits of ductless heating with Revolution Heating & Cooling, your trusted partner for expert installation and service in Parkville.
About Parkville
Parkville, Maryland, is a charming community known for its welcoming atmosphere and family-friendly environment. With easy access to Baltimore, residents can enjoy the city's vibrant culture and attractions, including the Baltimore Museum of Art and the historic Fort McHenry. Parkville is also home to beautiful natural spaces like Double Rock Park, offering serene walking trails and picturesque scenery.
For Parkville residents in need of heating contractor services, Revolution Heating & Cooling is your trusted local partner. Our experienced team is dedicated to ensuring your home stays warm and comfortable during the colder months. Contact us today to schedule top-notch heating services and make the most of your living experience in Parkville.
If you are looking for Parkville Heating Repairs, please call Revolution Heating & Cooling today!