Superior Linthicum Heating Contractor Services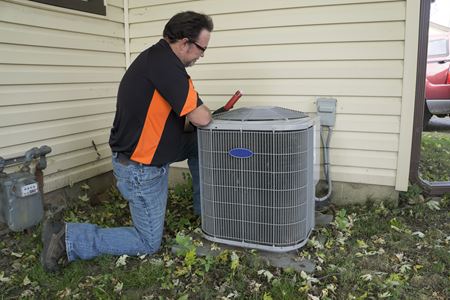 Revolution Heating & Cooling takes pride in providing superior heating contractor services to the residents of Linthicum and surrounding areas. Our dedicated team of highly trained technicians is committed to delivering top-notch heating solutions that ensure your home remains warm and comfortable throughout the winter. Whether you require heating system installations, repairs, or regular maintenance, we've got you covered. We understand the unique heating needs of Linthicum's climate and offer customized solutions to suit your home and budget.
What sets us apart as the go-to heating contractor in Linthicum is our unwavering commitment to excellence, reliability, and customer satisfaction. We use the latest industry technology and techniques to diagnose and address heating issues promptly, ensuring your system operates at peak efficiency. Our transparent and upfront pricing, along with our dedication to delivering exceptional service, makes Revolution Heating & Cooling the trusted choice for all your heating needs in Linthicum. When you choose us, you can count on superior craftsmanship, dependable solutions, and a warm and cozy home during the winter months.
Professional Heating Installations in Linthicum
When it comes to heating system installations or replacements, our skilled technicians excel in providing top-notch services. We are dedicated to offering our customers cost-effective solutions by partnering with reputable manufacturers such as Trane, Lennox, Carrier, Honeywell, and Goodman. We firmly believe that investing in high-quality heating equipment not only ensures longevity but also provides better warranty coverage. If you require new heating installation or replacement, our technicians are well-equipped to secure excellent deals for you while delivering reliable and efficient solutions.
Honeywell Air Cleaners - The Best in Linthicum
We know you need good air to breathe while you're living in your Linthicum home. That's why we recommend the Honeywell air cleaners.
Air cleaners can help with problems like asthma and allergies when the system is cleaned. HEPA and other filters that trap dust and allergens are efficient, but the best equipment is a high-efficiency air cleaner.
When your air handling system is providing cleaner air throughout your Linthicum home, then everyone in the house will breathe cleaner air. And don't forget to change your air filters every month or give our technicians a call for help.
Heating Repair Services in Linthicum
Our company offers comprehensive repair services for various heating systems, including heaters, boilers, furnaces, heat pumps, and radiant heaters. Regardless of the type of heating unit in your home, our skilled technicians possess the expertise needed to address any issues effectively.
In addition to our heating repair expertise, we specialize in HVAC air duct services. Our professionals can conduct thorough inspections of your air ducts to ensure proper functionality and sealing. At Revolution Heating & Cooling, we aim to be your all-in-one solution for heating and cooling needs, striving to surpass your expectations with every service we provide.
When it comes to delivering residential heating services, our team is dedicated to enhancing your comfort. We deeply value our Linthicum community and prioritize your satisfaction, knowing that it signifies the optimal performance of your heating and cooling systems without explicitly mentioning air conditioning. Call Revolution Heating & Cooling today for superior service from a Linthicum heating contractor.
The Benefits of Ductless Heating in Linthicum
Ductless heating systems have become a preferred choice for Linthicum homeowners, and it's easy to see why. These systems offer several advantages, including precise temperature control for individual rooms or zones, energy efficiency, and the flexibility to heat spaces without ductwork. Ductless heating is a cost-effective way to maintain a comfortable indoor environment, allowing homeowners to save on energy bills while enjoying customizable comfort. Additionally, these systems are easy to install and require minimal maintenance, making them a convenient and hassle-free heating solution. Experience the benefits of ductless heating in Linthicum with Revolution Heating & Cooling, your trusted partner for expert installation, maintenance, and repair services.
About Linthicum
Linthicum, Maryland, is a picturesque community known for its small-town charm and close-knit atmosphere. Located near Baltimore, residents enjoy easy access to the city's cultural attractions and landmarks such as the National Aquarium and Camden Yards. Linthicum itself boasts historical sites like the Benson-Hammond House and the vibrant Linthicum Farmers Market, creating a unique blend of heritage and modern living.
For Linthicum residents in need of heating contractor services, Revolution Heating & Cooling is your trusted local partner. Our dedicated team of professionals is committed to ensuring your home remains warm and comfortable during the colder months. Contact us today to schedule top-quality heating services and enhance your living experience in Linthicum.
If you are looking for Linthicum Air Conditioning Repairs, please call Revolution Heating & Cooling today!