Heating Installation Experts Serving Baltimore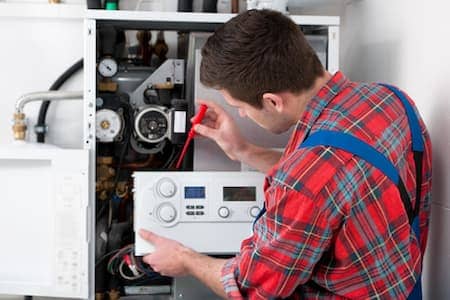 If you are building a new home in Baltimore or you know your heating system needs replacement, give our service techs a call. Our Baltimore heating contractor is a master technician who can handle your Baltimore Heating Installation whether it's to design and install a new system or replace your old furnace or boiler.
If your unit is currently around 10 years old, it may be time to start thinking about replacing it. There are many new heating technologies today that will outperform your old system. In tough economic times where saving money is crucial, the last thing you want is to have an old heating system that labors and breaks down all the time.
If you've had someone tell you that you need a new system, we'll check it out before we go anywhere with a new installation to double-check the diagnosis. There are plenty of cases where it's more advisable to keep the heater you have. And if you do wind up needing a new Baltimore Heating Installation, we're glad to help you find a great replacement from our quality manufacturers.
The type of heating system you'll want to install will depend on many factors including the layout of your home, the space available for ductwork and air handlers, you and your family's preferences, and more. We'll check out your home, discuss it with you, and then give you a great free estimate for an affordable, high-quality heating installation.
Revolution Heating & Cooling is the heating contractor for Baltimore homes to take care of heating repairs, installation, and more. Contact us today to schedule heating installation in Baltimore and surrounding locations.
Installing New Heating Units
Installing new heating units in Baltimore is a crucial decision to ensure your home stays warm and comfortable during the chilly winters. Whether you're replacing an outdated system or upgrading to a more energy-efficient one, it's essential to enlist the services of experienced professionals like Revolution Heating & Cooling. Our skilled technicians assess your home's heating needs, recommend suitable heating units, and provide expert installation services. We prioritize efficiency, safety, and customer satisfaction, ensuring that your new heating system operates at peak performance. With a new heating unit properly installed by our team, you can enjoy reliable warmth, lower energy bills, and peace of mind throughout the winter season.
The Benefits of Professional Heating Installation by Revolution Heating & Cooling
Professional heating installation offers numerous advantages, and when it comes to choosing the right team for the job, Revolution Heating & Cooling stands out as the best choice. Our experienced technicians ensure that your heating system is correctly sized and installed for optimal performance, maximizing efficiency and reducing energy bills. We prioritize safety, meticulously handle gas or electrical connections, and adhere to local codes and regulations. Additionally, our expertise ensures that your new heating unit operates seamlessly, reducing the risk of breakdowns and costly repairs. With Revolution Heating & Cooling, you gain access to reliable, efficient, and worry-free heating that keeps your Baltimore home comfortably warm during the coldest months, backed by our commitment to excellence and customer satisfaction.
Frequently Asked Heating Installation Questions
When selecting a new heating system, several factors should be taken into account, including:
The size and layout of your home.

Your budget and energy efficiency goals.

The type of fuel source (e.g., gas, electric, oil).

Your local climate and heating needs.
The system's efficiency rating and features. A professional HVAC technician, like those at Revolution Heating & Cooling, can assess these factors and recommend the most suitable heating system for your specific requirements.
The duration of a heating system installation can vary based on factors such as the type of system, the complexity of the installation, and the size of your home. In general, a standard heating system installation may take anywhere from a few hours to a full day. It's best to consult with your HVAC provider to get a more accurate estimate based on your unique circumstances.
To prepare for a heating system installation, you can:
Clear the area around the installation site to provide easy access for technicians.

Remove any obstacles or belongings that might hinder the installation process.

Ensure that pets or family members are kept away from the installation area for safety.

Discuss any specific requirements or preferences with your HVAC provider to ensure a smooth installation process.
If you have more questions about heating installation or need assistance with selecting and installing a new heating system, feel free to reach out to Revolution Heating & Cooling for expert guidance and services.
If you are looking for affordable Baltimore Heating Installation, please call Revolution Heating & Cooling today!