Air Conditioning Repairs To Get Your Baltimore Cooling System Going Again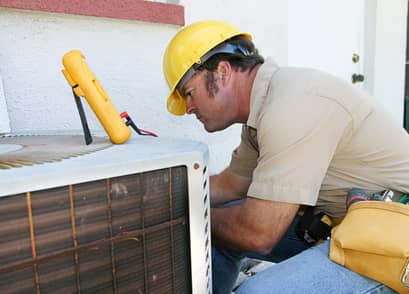 If you live in the area, our heating contractor for Baltimore is the air conditioning repair technician you want for affordable, reliable Baltimore Air Conditioning Repairs, maintenance, and new installations. Our expert services are competitively priced and are done right the first time.
All our Baltimore air conditioning specialists are experienced and highly skilled air conditioning contractors who will offer you honest free estimates for repairs or new installations, great quality service you can count on, and quality, affordable products that last.
If you're looking for a reliable air conditioning contractor in Baltimore, revolution Heating & Cooling is the company to call. Contact us today for air conditioning repairs and help keep your home in Baltimore cool through the summer.
Fixing AC Problems Quickly
We want your Baltimore air conditioning repairs to be done right so your home stays safe and comfortable. We use the latest tools and testing equipment to ensure that you have the correct diagnosis of the issues and the most efficient services possible. Revolution Heating & Cooling is working hard to be the go-to team for air conditioning repairs and expert installations. Your air conditioning repairs will be taken care of quickly and efficiently. Contact us for air conditioning tune-up service so you can reduce the likelihood of needing frequent AC problems.
Common Types of Air Conditioning Repairs Handled by Revolution Heating & Cooling
At Revolution Heating & Cooling, we specialize in addressing a wide range of air conditioning repairs to keep your home cool and comfortable. Our experienced technicians are equipped to handle common issues such as refrigerant leaks, faulty thermostats, clogged filters, and malfunctioning compressors. We also tackle more complex problems like compressor or condenser coil failures and electrical component issues. With our expertise and prompt service, we ensure that your air conditioning system is back up and running efficiently, providing relief from the sweltering heat of Baltimore summers. Count on us to deliver reliable AC repair solutions to keep your home cool and your family comfortable.
Frequently Asked Air Conditioning Repairs Questions
When your AC unit is blowing warm air, it could be due to various reasons, including a refrigerant leak, a clogged air filter, or a malfunctioning compressor. It's essential to have a professional technician from Revolution Heating & Cooling diagnose the issue. We can identify the root cause and provide the necessary repairs to restore your system's cooling efficiency.
Unusual noises from your AC system, such as grinding, rattling, or banging sounds, can indicate underlying problems. These may range from loose or damaged components to issues with the fan or motor. Ignoring such noises can lead to more significant damage over time. Contact Revolution Heating & Cooling promptly to have our experts inspect and repair your air conditioning system.
Deciding between repairing an older AC unit and replacing it depends on several factors, including the age of the system, the extent of the repair needed, and its overall efficiency. Our team at Revolution Heating & Cooling can provide a thorough assessment to help you make an informed decision. In some cases, a repair may be a cost-effective solution, while in others, upgrading to a more energy-efficient unit may be the better long-term investment.
Feel free to reach out to Revolution Heating & Cooling for all your air conditioning repair needs in Baltimore or if you have more specific questions about your AC system.
Latest AC Repair Articles
Top 4 Air Conditioning Problems in Baltimore

Summer is winding down in Baltimore, but your air conditioner has been working hard to cool your home all season and there are still a couple months before the cool fall weather really starts to set in. If your air conditioner has been working hard to […]

Top 3 Air Conditioning Problems in Baltimore

Air conditioning systems are one of the most convenient parts of our modern lives. Most of the time, we don't need to think twice about our ACs, and they keep us cool and comfortable throughout the summer months. However, like any other machine, air conditioners can […]
If you are looking for reliable Baltimore Air Conditioning Repairs, please call Revolution Heating & Cooling today!